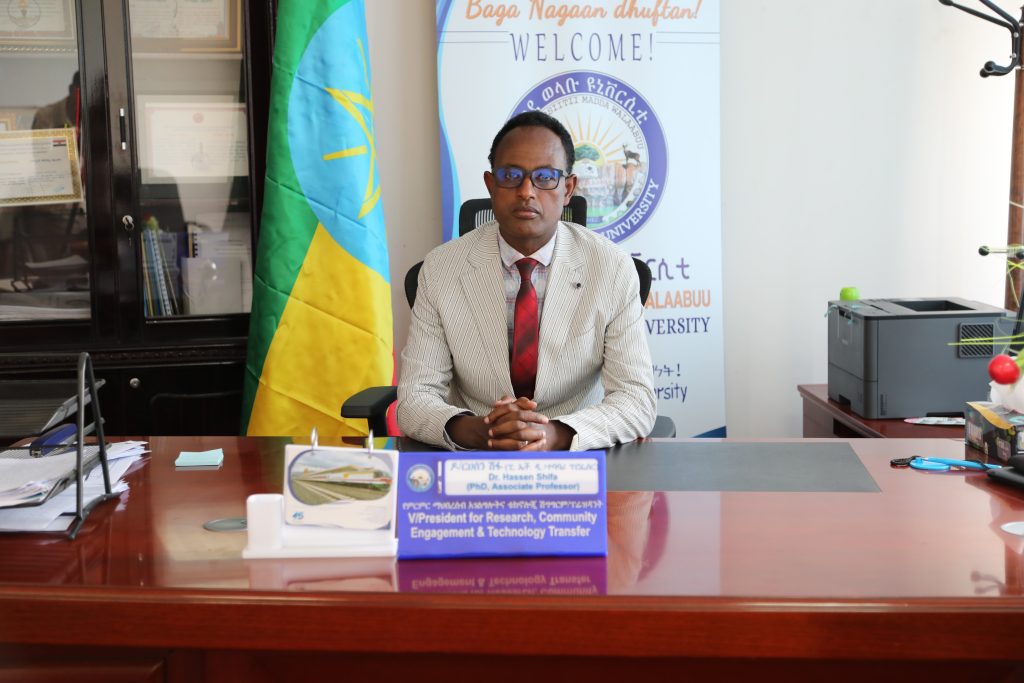 Message from  Vice President for Research, Community Engagement and Technology Transfer (VPRCETT)
The Vice President for research, community engagement and technology transfer will serve as advisor to the President and has primary leadership responsibilities for planning, implementing, and coordinating the research, community service and technology transfer. Within the context of academic institutions, it is evident that quality and relevant research contributes significantly to the search for excellence and to the ongoing efforts to ensure quality learning and teaching with the ultimate goal of cultivating and nurturing the new generation for the future of Ethiopia.

The significance of research for changing the lives of the
immediate and wider communities and improving their wellbeing is beyond doubt. Research projects initiated by universities can often yield very useful findings with direct bearings on policy initiatives, generation of new development insights, application of technologies and innovations, and ultimately on the quality of life of our citizens. To improve the relevance of research and technology development for societal and national development needs, institutions have to identify their thematic research areas considering their staff profile, topics of excellence and local needs.
Major tasks of the Office of The Vice President for Research, Community engagement and Technology Transfer are to:
1. Formulate research strategies and performance indicators, appropriate policies and procedures necessary to ensure successful implementation of the research and community service vision of the University;
2. Establish a system of research and outreach service management for the University;
3. Attract research grants addressing issues of national concern and facilitating the conduct of strategic research on development issues;
4. Promote interdisciplinary and collaborative thematic research projects that can have a major impact on national development;
5. Provide resources to help interdisciplinary teams develop competitive proposals for external research funding;
6. Supporting,coordinating and overseeing research infrastructure development and management of research facilities in the University;
7. Build strong, productive University-industry collaborations and relationships with industry partners nationally and internationally;
8. Support and oversee the establishment and operation of incubation center providing an environment for innovation, entrepreneurship and new business growth;
9. Coordinate, monitor and appraise the performance of the various research and outreach units of the University, including those of the research institutes established in
the University;
10. Plan, promote and carryout close work relations and linkages with appropriate government research and development agencies/institutions;
11. Oversee ethical standards for the conduct of research (including issues of scientific integrity, financial management, financial and business conflicts of interest, grant and contract compliance, etc.
12. Design and maintain research and community service databases.
13. Organize seminars, conferences and workshops to and encourage academics to take part in research and community service on critical national issues.
Contact Address :-

Hassen Shifa (PhD, Associate professor of plant Pathology)
Position: Research,Community Engagement and Technology Transfer Vice President
E-mail:- hasanb2020@gmail.com
Phone: +251911991500