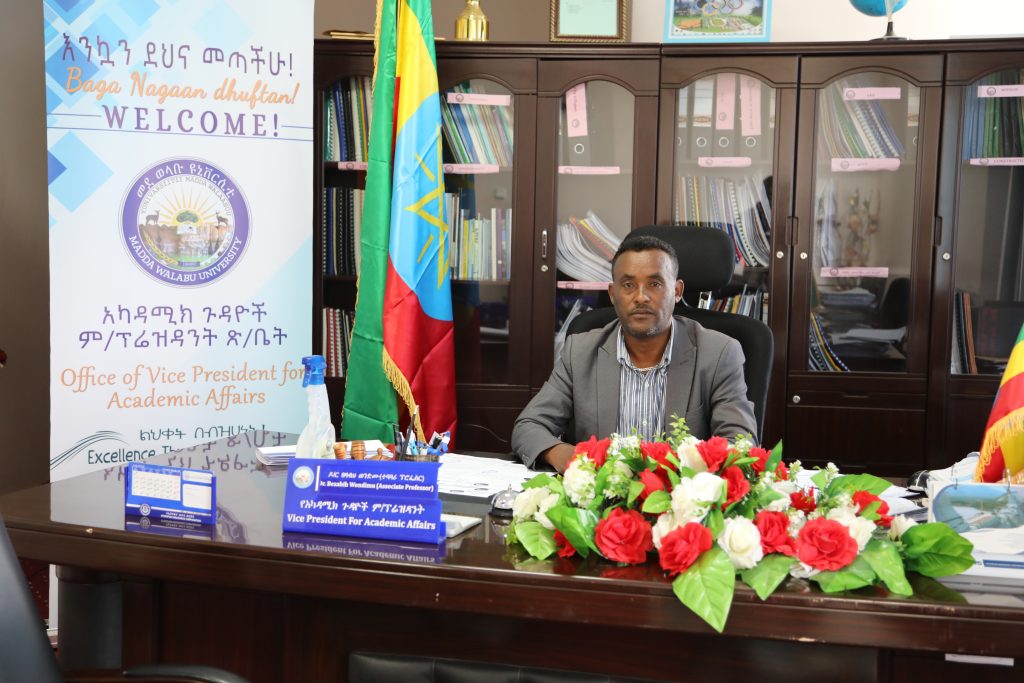 Message from Vice President for Academic Affairs
Office of the academic vice president is accountable to the university. The office serves as chief administrator in the absence of president; and has responsibilities for planning, leading, coordinating, facilitating and implementing the vast array of academic issues undertaking in the academic hemisphere of the university. To comprehend these responsibilities, the vice president works closely with Academic Directors, Deans, Department heads, Coordinators, other Administrators, and members of the University. The Office supervises different institute, colleges, Deans, Schools and Academic Directorates.
The major duties and responsibilities of the office of the Academic vice president are to:
Plan, lead, coordinate and oversee responsibilities for development and management of graduate and undergraduate academic programs, continuing education, teaching and learning support, office of the Registrar and alumni directorate and library and documentation.
Devise strategies which help to follow and ensure the implementation of policies, plans, rules and regulations, legislation and other guidelines governing academic programs, academic and technical staff, and students;
Ensure the employment and promotion of academic staff in consistent with the university's rules and procedures;
Coordinate periodic academic program reviews and work with academic units in the review, study, and development of curriculum and the improvement of instruction;
Establish and facilitate collaboration with industries and other institutions in pursuit of the university's
Support and ensure the programs of study; prepare and supply qualified  graduates in knowledge, skills, and attitudes on the basis of existing needs of the country;
Ensure the university's strategic and operations plans are in place for colleges and reporting units, monitoring and supporting best practices, monitoring performances, and promoting positive relations internally and externally;
Combating HIV/AIDS, supporting people with special needs and mainstreaming the issues of gender equality on and off the university's campus.
Works closely and collaboratively with other vice presidents for effective and efficient use of resources and manages the activities of the University's broad academic direction/vision, priorities and policies;
Exercise the responsibilities the president may entrust to him/her.
The academic units accountable to the office Academic Vice President and assist with academic functions are:
One institute – Institute of Technology
Seven Colleges – College of Engineering, College of Computing, College of Natural & Computational Sciences, College of Social Science & Humanities, College of  Education and Behavioral Studies, College of Agriculture and Natural Resource Management, College of Business and Economics.
Bezabih Wondimu ,(PhD)